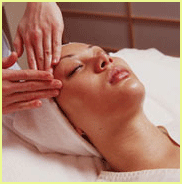 Our powerfully effective natural techniques help rejuvenate your skin. We can make your skin come alive and apear more youthful, clear and radiant without compromising your health.

Refresher Facial :
Includes cleaning, toning, moisturizing, exfoliation & mask.

Aromatherapy Facial :
Includes cleansing, toning, exfoliation, moisturizing, extraction,
face / head massage.

Microdermabration :
Treatment involves deep cleansing, peeling and calm down mask

Modeling mask :
Improves metabolism and increases blood circulation used for dry, mature, or
dehydrated skin. Choice of oriental herbs mask, seaweed mask or marine mask

Paraffin Facial Treatment :
Stimulated collagen, hydrates the skin and reduces fine line and
wrinkles

Classic European Facial :
Includes cleansing, toning, exfoliation, moisturization, extraction, face
/ head massage & glycolic mask

Back facial :
Similar to skin care facial. This service provides deep cleansing hydration to those
hard to reach areas of the back.

Additional services to facial care

Fruit mask :
Deep hydrating & nourisging

Waxing :
Eye brow, Lip, Chin, Cheek, Full Arm, Under Arm, Full leg, Half leg, Back, Bikini.