ATPC strives to provide better services to patients all the time. Following areas are the services that ATPC is currently providing. Please visit our website in regular basis to check out the updated services.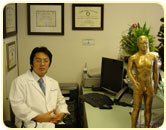 Taking only the positive and effective methods from the eastern and western worlds' most acknowledged practice, we aim to supply one-stop shopping for personal health and rejuvenation.  

Services include acupuncture, natural herb medicine and Qi energy healing, chiropractic, shiatsu, beauty care, facial care, and much more!


Dr. Youn-D Chung L.Ac., O.M.D., Ph.D
Acu - Therapy & Pain Clinic


ATPC Staffs